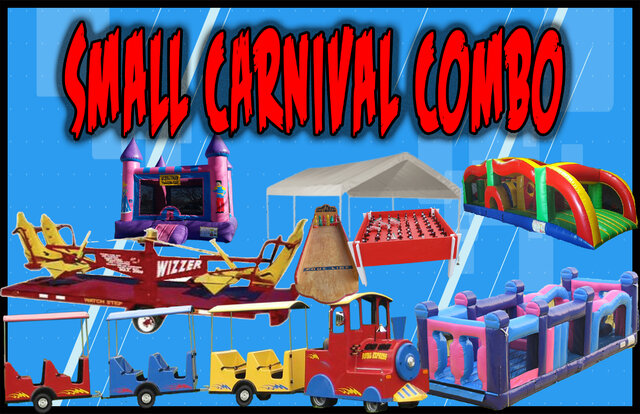 Small Carnival - 2 hours
2 Staffed Rides, 2 Obstacles, 1 Bounce house & 4 tented games.
Setup Area: 100' x 100'
Outlets: We provide generators.
Attendants: You will need to provide 5 monitors for the inflatables and games. We staff the Amusement Rides. NO PRIZES PROVIDED




This will be a 2 hour event. Each additional hour will be $500.

This rental consists of the following:

2 Staffed Amusement Rides (You pick which 2 rides and we operate them for the event.)

2 Obstacle Course Inflatables. (Upgrades Available.)

1 Bouce House (Over adozen options for the bounce house.)

4 Carnival games under two 10x10 tents with a frame for each game. (No Prizes Provided)

We provide our own electricity via generators.

You will need to provide at least 5 volunteers to supervise the inflatables and games. Our staff will operate the amusement rides only. If you need additional staff or a fully staffed event please call to book this event.

We will need about 2-3 hours to setup this event . You will recieve a full 2 hours of run time for all equipment. When we are finished we will require another 1.5 - 2 hours to tear down. Roughly 6 - 8 hours total on site. Please prepare for this. For events over 2 hours there will be a 15 mintue break for all amusement rides at the halfway point.

$350 Sand Bag Fee when setup on a hard surface.